Wanted To Buy
We are always buying as well as selling!! Below is a list of items we are looking for. If you have anything you think we'd be interested in feel free to stop by or give a call to have us check it out!! We recommend calling before you bring your items in to advise on condition, value, etc. and to ensure someone will be available. Please note we only buy Monday - Friday and our ability to buy your items also depends on the market, our storage capacity and current inventory. For large collections we are happy to travel to you.
A printable list is also available by clicking the graphic.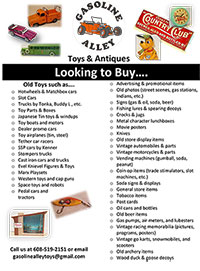 Old Toys such as:
Hotwheels & Matchbox cars
Slot Cars
Trucks by Tonka, Buddy L , etc.
Toy Parts & Boxes
Japanese Tin toys & windups
Toy boats and motors
Dealer promo cars
Toy airplanes (tin, steel)
Tether car racers
SSP cars by Kenner
Stompers trucks
Cast iron cars and trucks
Evel Knievel Figures & Toys
Marx Playsets
Western toys and cap guns
Space toys and robots
Toy trains
Character toys
Action figures (pre 1980s)
Pedal cars
Tractors
Collectibles such as:
Advertising & promotional items
Old photos (street scenes, gas stations, Indians, etc.)
Signs (gas & oil, soda, beer)
Crocks & jugs
Metal character lunchboxes
Movie posters
Old store display items
Vintage automobiles & parts
Vintage motorcycles & parts
Vending machines (gumball, soda, peanut)
Coin op items (trade stimulators, slot machines, etc.)
Soda signs & displays
General store items
Tobacco items
Oil cans and bottles
Old beer items
Schwinn Stingray & Crate bikes
Gas pumps, air meters, and lubesters
Vintage racing memorabilia (pictures, programs, posters)
Vintage go karts, snowmobiles, and scooters
Old archery items
Wood duck & goose decoys
Fishing lures & spearing decoys
Knives
Post cards
MidCentury Modern (1950s) furniture
Galvanized metal buckets/washtubs
Architectual salvage
Local advertising
WWII and earlier military items
WHAT WE DO NOT BUY AT THIS TIME:
We have an extensive buy list as you can see but we also have a list of what we are NOT interested in buying or selling. Please do not contact us to sell any of the following items: anything made in the 1990's or newer (if it has a barcode on it, the item is too new), furniture other than what is listed above, tools, linens, books, glassware, Pyrex, collectible ceramic figurines, collectible plates, dolls, NASCAR diecast, building toys (tinkertoys, lincoln logs, lego, etc.), Beanie Babies, McDonalds or other fast food restaurant toys, board games, Pez, comic books, marbles, and erector sets.